During checkout: select the "Orchid & Flask Orders" payment option.
You will be billed later.
Before you commit to buy, please read About Ordering
In the shopping cart: use your back button to return
Dendrobium igneoniveum outcross #3537 ('3608' x '7825') (approximately 25 seedlings per flask).
The Species: The name means "the red and white Dendrobium." This is an uncommon species in the Formosae section of Dendrobium. Found in western Sumatra as a moderately sized plant up to 16". The flowers come 3 to 5 on a short inflorescence and are up to 2.5" wide.
Culture: The temperatures in the habitat are in the mid 60's F at night and mid to upper 70's F during the day and similar most of the year. The skies are cloudy much of the time and the rainfall fluctuates some, but there is no dry season. These will do well mounted with good humidity and can be grown potted if repotting is done before the medium breaks down. Water with dilute fertilizer. I have seen this sepecies beautifully grown in an intermediate greenhouse.
Capsule parent: Dendrobium igneoniveum '3608'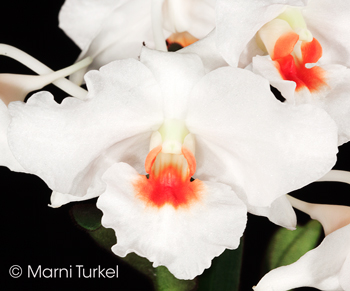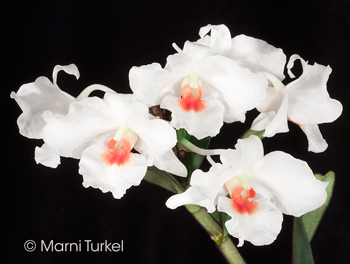 Pollen parent: Dendrobium igneoniveum '7825'