During checkout: select the "Orchid & Flask Orders" payment option.
When this item has a price and becomes available for order
you can decide if you want to commit to buy it.
In the shopping cart: use your back button to return
Dendrobium jaintianum outcross #2145 ('Stony Point' x 'Lisa') (approximately 25 seedlings per flask).
The Species: This is a recently described species of Dendrobium in the nigro-hirsute (black-haired) group. It grows in northeast India and was described in 2007. The species has very long lasting flowers about 1.5" wide. It blooms on a small plant and gets better as it gets bigger. It is a very rewarding species that deserves a place in many collections.
Culture: I am growing this at both 50 and 56F nights and 75 to 80F days in moderately bright light. I am currently fertilizing at every watering at the rate of 1/4 teaspoon per gallon and a bit lower strength in winter. I have grown these potted and staked up but am also doing well with a mounted plant that lets the arching to semi-pendant growths hang free.
Capsule Parent: Dendrobium jaintianum 'Stony Point'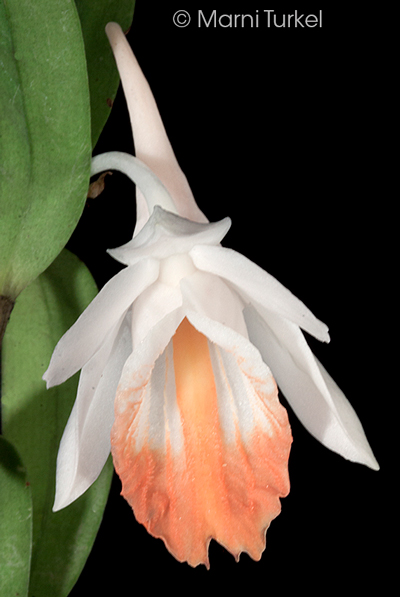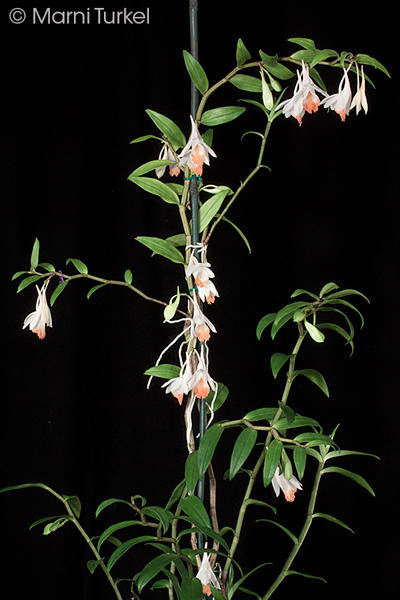 Pollen Parent: Dendrobium jaintianum 'Lisa'