During checkout: select the "Orchid & Flask Orders" payment option.
You will be billed later.
Before you commit to buy, please read About Ordering
In the shopping cart: use your back button to return
Dendrobium lowii outcross #2805 ('3248' x '2375') (approximately 25 seedlings per flask).
The Species: This nigro-hirsute (black-haired) Dendrobium species is a compact size of 12 to 19" tall. The fragrant and long-lasting flowers are 1.5 to 2" and can be from 2 to 7 per inflorescence. They grow on exposed trees in Sarawak in northwestern Borneo at 1000 ft elevation.
Culture: Grow in rather bright light with intermediate to warm conditions and good humidity. The brighter the light, the more intense the flower color. The winters in the habitat are a bit drier than the rest of the year, but the plants should not be allowed to dry for any extended period of time. It can be grown mounted on treefern, cork or hardwood if humidity is very good and they are watered frequently during hot weather. If potted, be sure to repot as soon as the medium begins to break down to prevent root loss.
Capsule parent: Dendrobium lowii '3248'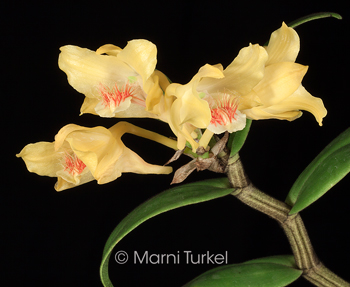 Pollen parent: Dendrobium lowii '2375'