Sold out
Dendrobium microbulbon sibling cross #2418 ('Brad' x 'Stony Point') (approximately 25 seedlings per flask).
The Species: This is the true Dendrobium microbulbon and is rarely seen in collections. They are not deciduous in cultivation and are attractive all year long. They can bloom for much of the year since the flowers are long lasting and spikes are produced at various times of year and growths will rebloom multiple times. It is found in western India at elevations around 4000 ft. The charming flowers are fragrant.
Culture: I have always grown this mounted. It has done better in intermediate conditions than in cool temperatures. From the elevation range, it may also do well in warm conditions. Give it good air movement and moderate to moderately bright light. I water and fertilize year round.
Capsule parent: Dendrobium microbulbon 'Brad'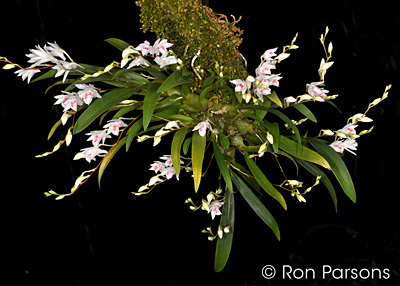 Pollen parent: Dendrobium microbulbon 'Stony Point'