During checkout: select the "Orchid & Flask Orders" payment option.
When this item has a price and becomes available for order
you can decide if you want to commit to buy it.
In the shopping cart: use your back button to return
Dendrobium papilio regular form treated sibling cross #2906 ('4235' x '7472') (approximately 25 seedlings per flask). These seedlings have been treated to alter the chromosome count. This does not guarantee that they will be 4N. For more information go to Ploidy.
The Species: This is a delightful species that has been in cultivation for many years but is not widely seen. The flowers on this form are 2.25". The species is found in the Philippines at elevations 4600 to 7250 ft where it grows as an epiphyte. The growths are slender and the fragrant flowers appear to float in the air like butterflies.
Culture: This does best for me in a cool greenhouse (50F minimum nights) potted in a bark mix. I usually add a bit of oyster shell on top of the mix, though I am told that it isn't necessary. It can also be grown mounted. Whether potted or mounted, the growths will arch out under the weight of the proportionally large flowers and may need staking unless the are where they can just spread out. Either way it is a magnificent sight in full bloom. I water year round with dilute fertilizer. It is growing in moderate light.
Capsule parent: Dendrobium papilio '4235'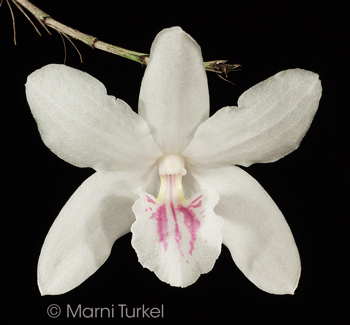 Pollen parent: Dendrobium papilio '7472
'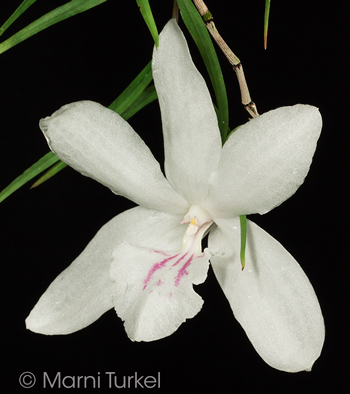 Dendrobium papilio #1 is the original parent of the plants used in the cross. It shows the habit of the species.