During checkout: select the "Orchid & Flask Orders" payment option.
You will be billed later.
Before you commit to buy, please read About Ordering
In the shopping cart: use your back button to return
Dendrobium pseudolamellatum #5205 ('Cindy' x 'Judy') (approximately 25 seedlings per flask).
The Species: This is a small stature, free-flowering species that is found in Sabah, Borneo at elevations around 2300 ft. The pseudobulbs are pendant, distinctly flattened and very interesting. The flowers are a little over 3/4" and are born 3 to 5 per inflorescence. The blooms can occur year round. The largest growth on my plant is 15" from the base of the pseudobulb to the tip of the leaf.
Culture: I grow this mounted in warm condition, 65F minimum nights in moderate light. It will do well in intermediate conditions as well. It gets daily water and fertilizer most of the year and is dry before the next watering.
Capsule Parent: Dendrobium pseudolamellatum 'Cindy'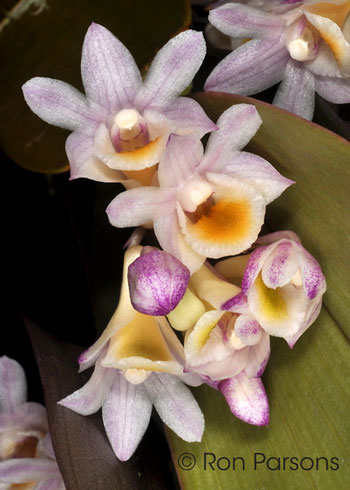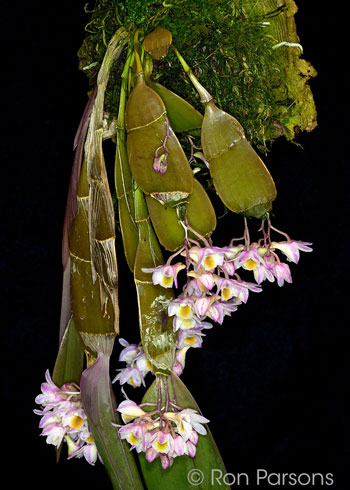 Pollen Parent: Dendrobium pseudolamellatum 'Judy'