During checkout: select the "Orchid & Flask Orders" payment option.
You will be billed later.
Before you commit to buy, please read About Ordering
Dendrobium sanderae var. luzonicum sibling cross #2641 ('5244' x Lisa') (approximately 25 seedlings per flask).
The Species: This variety of Dendrobium sanderae is a more compact plant than the other forms, usually 20 to 24" maximum height, which is about 1/2 the height of some of the other varieties. The flowers are long lasting and just under 2" wide. This varitey grows as an epiphyte at elevations up to 1000 ft.
Culture: I grow this plant with 56 degree minimum night temperatures in moderately bright light. I should do well in warmer conditions as well. It approachaes dryness between watering during the growing season and is given more time between waterings in the winter. It has done well for me in a fine bark mix in a plastic pot.
Capsule parent: Dendrobium sanderae var. luzonicum '5244'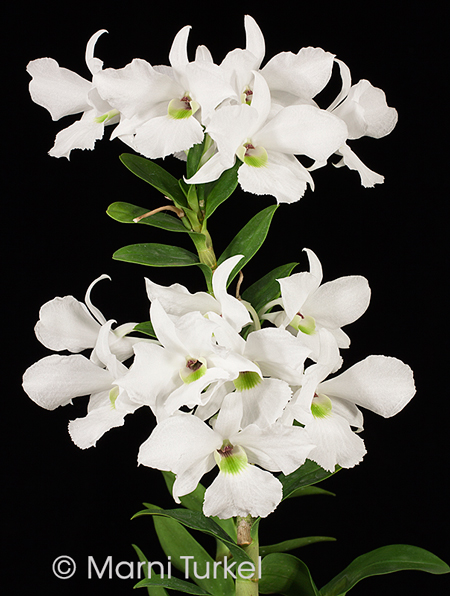 Pollen parent: Dendrobium sanderae var. luzonicum 'Lisa'