Sold Out
Dendrobium seranicum outcross #1168 ('W' x 'MT') (approximately 25 seedlings per flask).
The Species: This uncommon species in the oxyglossum section of Dendrobium is found only in the Molucca Islands where it grows at elevation from 3300 to 6250 feet. The paired flowers bloom from mature pseudobulbs either with or without leaves.
Culture: I grow this species in cool temperatures (approximately 50°F minimum nights and 75°F days) with good humidity and year-round moisture. I fertilize lightly at every watering, but your water quality must be very very good. Moderate to moderately bright light.
Capsule Parent: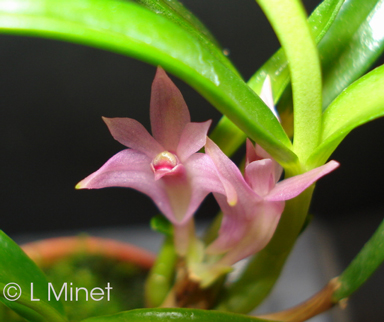 Pollen Parent: