During checkout: select the "Orchid & Flask Orders" payment option.
You will be billed later.
Before you commit to buy, please read About Ordering
In the shopping cart: use your back button to return
Dendrobium speckmaieri #5033 outcross ('2998' x '7768') (approximately 25 seedlings per flask).
The Species: A very interesting Dendrobium species that can bloom repeatedly on both new and old pseudobulbs and can bloom several times per year. A few pseudobulbs are up to 14" long on my older plants but most are less than 12". The pseudobulbs are slightly compressed or flattened. It was first described in 2002 and is found in Suluwesi at lower elevations.
Culture: This has done best for me in a warm greenhouse with good morning light and moderate light the rest of the day. I grow it mounted on cork or hardwood with moss or coconut fiber at the roots. It is watered year round with dilute fertilizer and is just dry before it is watered again.
Capsule parent: Dendrobium speckmaieri '2998'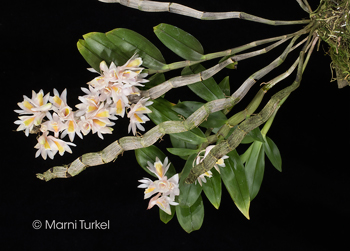 Pollen Parent: Dendrobium speckmaieri '7768'