Sold out
Dendrobium subclausum sibling cross treated #93020 ('2096' x '2201') (approximately 25 seedlings per flask).
The Species: This is a very distinctive form of Dendrobium subclausum. I bought some seedlings years ago labeled Dendrobium "bicolor". These seedlings have a very appealling habit of being loosely pendant so they aren't the space hogs that other clones can be. I have had them identified and they are Den. subclausum. This species grows in New Guinea and the Molucca Islands at a wide variety of elevations. It is an epiphyte and occassionally a lithophyte.
Culture: I have grown Dendrobium subclausum both potted and mounted. I have always grown this variety mounted since the growths are loose and strongly pendant. It would also do well in a basket where the growths can hang free. I water it year round with dilute fertilizer at every watering. Contrary to some literature, I don't give it a dry rest. I find this species in general grows best with more diurnal range than most plants. But it doesn't need the extreme temperatures to be a rewarding plant. For this form I use a more moderate temperature range of cool to cool intermediate. I give it moderate to moderately bright light.
Capsule parent: Dendrobium subclausum '2096'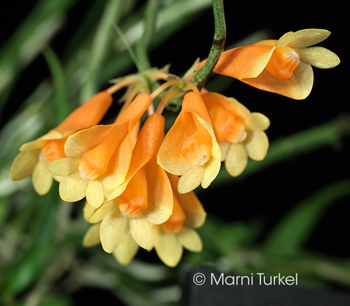 Pollen parent: Dendrobium subclausum '2201'