During checkout: select the "Orchid & Flask Orders" payment option.
You will be billed later.
Before you commit to buy, please read About Ordering
In the shopping cart: use your back button to return
Dendrobium subuliferum sibling cross #4155 (approximately 25 seedlings per flask).
The Species: The flowers of this rewarding species can appear at any time from fall through spring. They are a sparkling white with contrasting lavender on the anther cap. It comes from Papua New Guinea where it grows from 1000 ft to 6500ft elevation usually as an epiphyte in shady, moist conditions. It is a compact and upright grower. Mature plants reach 25" on a blooming sized division. It is a member of the Oxyglossum section and is uncommon in collections. Like others in this group it has very long-lasting flowers.

Culture: I grow this species with the 56F nights, even moisture, regular fertilizer in moderately bright light. Like most plants from New Guinea, good water quality is essential. I use 1/4 strength fertilizer at almost every watering (lower in the winter). Though this usually grows as an epiphyte, I grow it potted with much success. I also grow it mounted, but it has not as robust for me that way.
Parents: Dendrobium subuliferum. The images are not the parents but are representative of the species.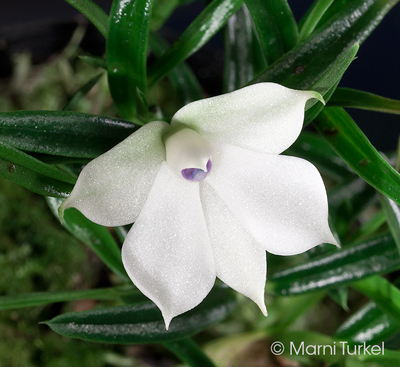 Pollen Parent: Dendrobium subuliferum '#8380' with flowers a full 1" natural spread.