During checkout: select the "Orchid & Flask Orders" payment option.
You will be billed later.
Before you commit to buy, please read About Ordering
In the shopping cart: use your back button to return
Dendrobium treubii #2820 outcross ('#2' x '#1') (approximately 25 seedlings per flask).
The Species: There is a bit of confusion about this species, but both of the parents are from the same source, purchased about 5 years ago and are definitley different clones. So I am confident that even if the name isn't correct, the seedlings are an outcross of what you see here and a very interesting plant. The flowers are about 2.5" wide and fragrant. The longest cane is 26" by 1.25" wide and very flat.
Culture: I am growing my plants in 56F minimum night and average 75F days with year round watering and dilute fertilizer at every watering. I suspect they would do better with warmer temperatures, but this is the warmest I have.
Capsule Parent: Dendrobium treubii '#2'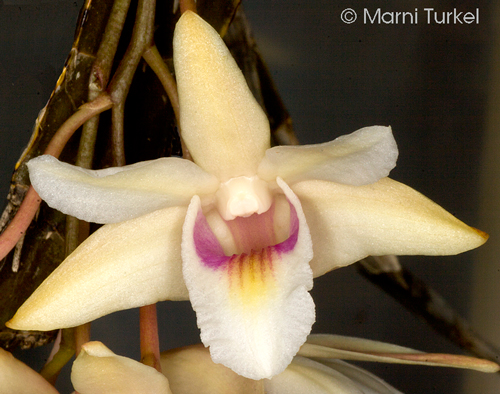 Pollen Parent: Dendrobium treubii '#1
'