Sold out
Dendrobium treubii #92820 outcross ('#2' x '#1') (approximately 25 seedlings per flask). These seedlings have been treated to alter the chromosome count. This does not guarantee that they will be 4N. For more information go to Ploidy.
The Species: There is a bit of confusion about this species, but both of the parents are from the same source, purchased about 5 years ago and are definitley different clones. So I am confident that even if the name isn't correct, the seedlings are an outcross of what you see here and a very interesting plant. The flowers are about 2.5" wide and fragrant. The longest cane is 26" by 1.25" wide and very flat.
Culture: I was growing my plants in 56F minimum night and average 75F days with year round watering and dilute fertilizer at every watering. Now that I have a warm greenhouse they are getting nights in the mid 60's and days up to 85F. They definitely prefer the warmer temperatures.
Capsule Parent: Dendrobium treubii '#2'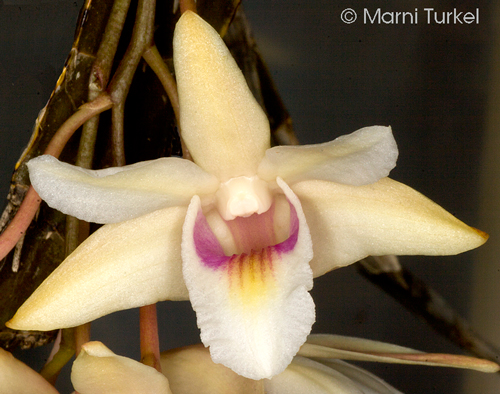 Pollen Parent: Dendrobium treubii '#1
'