Sold out
Dendrobium trichostomum outcross #3858 ('0407' x '0399') (approximately 25 seedlings per flask).
The Species: Plants of this species have been collected in Papau New Guinea and reportedly also found in Irian Jaya. The elevation range is from 1650 to 3000 ft.
Culture: In nature, the temperature ranges from low to mid 60's at night and low to mid 80's during the day. The rainfall fluctuates little during the year and there is no distinct dry rest. I have grown this with 56F minimum nights where it grows and blooms. It has done better with 60 to 65 minimum nights. It can bloom several times per year and the flowers last well. I've grown them both mounted and potted with equal success, though they display better when mounted.
Capsule parent: Dendrobium trichostomum '0407'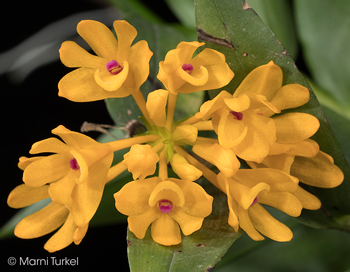 Pollen parent: Dendrobium trichostomum '0399'