During checkout: select the "Orchid & Flask Orders" payment option.
You will be billed later.
Before you commit to buy, please read About Ordering
In the shopping cart: use your back button to return
Dendrobium trigonopus x self #5138 (approximately 25 seedlings per flask).
The Species: This is found in Burma, Laos, northern Thailand and southwestern China where it grows from 1000 to 4900 ft elevation. The plant is from 9 to 12" tall and flowers from the upper part of both old and new growths. The waxy flowers are 2" across, relatively large for the plant. Flowers are fragrant and last for 2 to 3 months.
Culture: Plants will grow well in bright light and winters are brighter than summer. Winters are cool and relatively dry and plants should dry between waterings. Discontinue fertilizer at this time. Temperatures in the winter can be below 50F at night and it is important to keep plants drier when it is colder. Watering is resumed when the new growth starts. Spring and summer are warm, wet and shady. Increase the use of fertilzer during the growing season. It is recommended to grow this species mounted. If you do pot it, an open fast draining medium is ideal.
Dendrobium trigonopus: These images are representative of this species. The parent of this cross is very similar to the color of first two images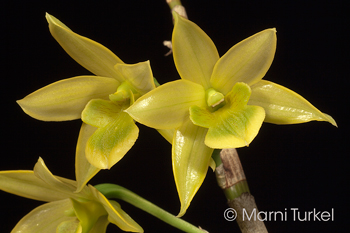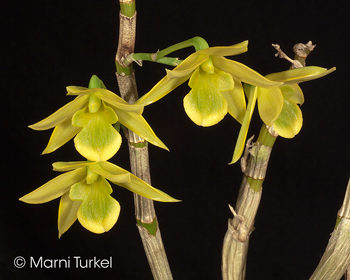 This image shows the plant habit, but I expect the seedlings to be less orange than this unrelated cultivar.
.