Sold out
Dendrobium vexillarius red #1703 ('Red O&M' x sibling) (approximately 25 seedlings per flask). This species needs specialized conditions and can be difficult to get out of flask. It is not recommended for beginners. Though the flower color is called 'red,' it might be more appropriate to call it red-orange or dark orange.
The Species: It grows at elevations ranging from 3650 to 13,200 ft in New Guinea, New Ireland and the Moluccas. It is most often found at elevations between 6550 to 11,150 ft. It grows as an epiphyte and occassionally a terrestrial in moss in bright light with cool temperatures. At the lower elevations of its range it grows at the tips of horizontal tree branches. At the higher elevations it will grow on the surface of the ground in a deep layer of peat, humus, and moss
Culture: I grow this species with 50F nights, even moisture, regular fertilizer in moderately bright light. Like most plants from New Guinea, good water quality is essential. I use 1/4 strength fertilizer at almost every watering (lower in the winter) because I have RO water, but it may do better with a bit more dilute fertilizer. I do best with this species mounted on wood or cork (with high humidity) or potted in sphagnum moss in a terra cotta pot, but many people also grow it successfully in a fine bark mix. If you can't keep the night temperatures down, it does not thrive.
Capsule Parent: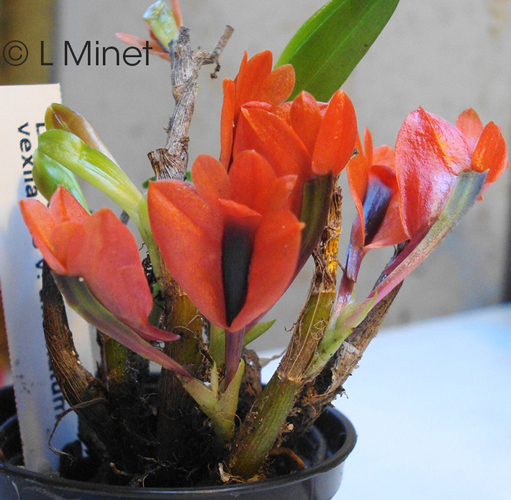 The next two images are of similar Den vexillarius clones in my collection that show the individual flower and the growth habit of a well established plant. The flower is a bit over 1" wide and can last for months.