During checkout: select the "Orchid & Flask Orders" payment option.
When this item has a price and becomes available for order
you can decide if you want to commit to buy it.
In the shopping cart: use your back button to return
Dendrobium victoriae reginae #2838 ('Walter's Blue' x 'Walter's white') (approximately 25 seedlings per flask).
The Species: This is a cross of a dark by light colored flowers. Both of these were collected in the 1960's by Walter Teague. The dark clone is one of the best and the white (not a true alba) is the only one I've ever seen. Recent breeding has been to very dark flowers. I am hoping for a lot of a different shades of blue. It grows at elevations between 4250 to 8900 feet only in the Philippines. It can bloom at most any time of the year.
Culture:It is an intermediate to cool or cold grower. I have always grown it with year round water, but some literature suggest is could use a dry rest. I fertilize them with 1/4 strength fertilizer most of the year and a bit lower strength in winter. It is a pendant plant in nature and does well mounted or in a basket, but it can also be grown potted and staked up.
Capsule Parent: Dendrobium victoriae reginae 'Walter's Blue'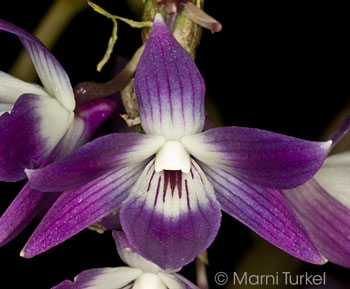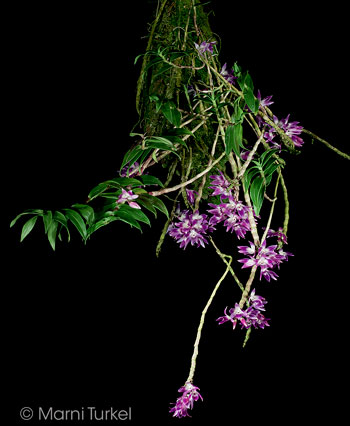 Pollen Parent: Dendrobium victoriae reginae 'Walter's White'