During checkout: select the "Orchid & Flask Orders" payment option.
You will be billed later.
Before you commit to buy, please read About Ordering
In the shopping cart: use your back button to return
Dendrobium victoriae reginae treated #95482 ('Mary' x 'Hawk Hill') (approximately 25 seedlings per flask). These seedlings have been treated to alter the chromosome count. This does not guarantee that they will be 4N. For more information go to Ploidy.
The Species: This is a cross of 2 dark colored flowers. It grows at elevations between 4250 to 8900 feet only in the Philippines. It can bloom at most any time of the year.
Culture:It is an intermediate to cool or cold grower. I have always grown it with year round water, but some literature suggest is could use a dry rest. I fertilize them with 1/4 strength fertilizer most of the year and a bit lower strength in winter. It is a pendant plant in nature and does well mounted or in a basket, but it can also be grown potted and staked up.
Capsule Parent: Dendrobium victoriae reginae 'Mary'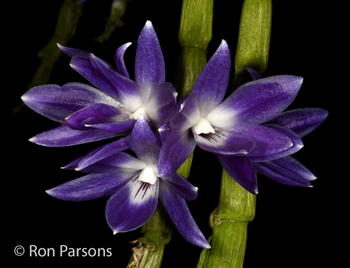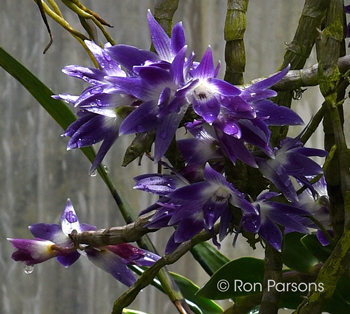 Dendrobium victoriae reginae, an unrelated clone that shows the habit of this species.