Sold out
Dickasonia vernicosa outcross #1048 ('7922' x '7919') (approximately 25 seedlings per flask).
The Species: This Coelogyne relative grows in the Himalayas in Assam, Bhutan and Myanmar at elevations from 5600 to 8250 feet. The plant remains under 5" tall and the 3/4" wide flowers are sparkling white and have a nice fragrance. It has also been known as Kalimpongia narajittii.
Culture: I find that it does best with a drier period in the winter. I grow it both with 50 and 56 minimum night in the winter and grows and blooms well as long as it is not kept wet at that time. I fertilize them with 1/4 strength fertilizer and frequent waterings most of the year and with occassional watering or misting in the winter. Because of the pendant spike, they are most easily displayed when grown mounted or in a very small hanging pot.
Capsule Parent: Dickasonia vernicosa '7922'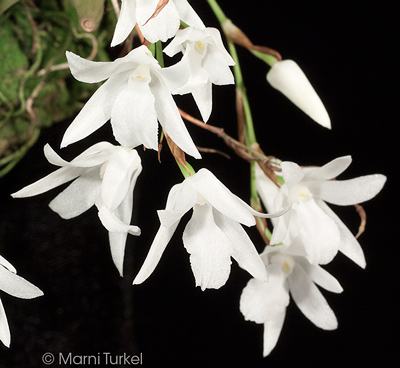 Pollen Parent: Dickasonia vernicosa '7919'