During checkout: select the "Orchid & Flask Orders" payment option.
When this item has a price and becomes available for order
you can decide if you want to commit to buy it.
In the shopping cart: use your back button to return
Encyclia cordigera #4996 outcross (['Kodama' x self] x 'Summit Rose') (approximately 25 seedlings per flask).
The Species: This is found in rather dry, scrubby forests of coastal regions from southern Mexico, through Central America, the West Indies, and into Colombia and Venezuela at elevations from sea level to 2950 ft. The plant is from 12 to 24" tall and produces one inflorescense per growth that carries 3 to 15 flowers. The flowers are up to 3" wide and fragrant when in sunlight.
Culture: This grows well in warm-intermediate to warm conditions. Summer days are cloudy with significant rain, while winter days are bright and rainfall drops. In cultivation watering is reduced but not eliminated in winter and misting will keep the pseudobulbs from shriveling. During the growing season allow plants to dry slightly before watering.
Capsule Parent: Encyclia cordigera 'Kodama' AM/AOS is shown in the image below. The parent of this cross is a selfing of 'Kodama' and is as nice a flower as 'Kodama'.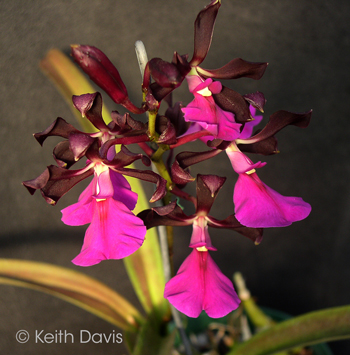 Pollen Parent: This is Encyclia cordigera 'Monticello Rose' which I am told it very similar to 'Summit Rose' (the pollen parent of this cross). The image shows the plant in a 14" pot with 7 inflorescence and 88 flowers.