During checkout: select the "Orchid & Flask Orders" payment option.
You will be billed later.
Before you commit to buy, please read About Ordering
In the shopping cart: use your back button to return
Encyclia mariae outcross #1551 ('1194' x '1192') (approximately 25 seedlings per flask).
The Species: Found only in northwestern Mexico (in the states of Tamaulipas, San Luis Potosi, Vera Cruz, and Hidalgo), it grows at elevations from 3300 to 4000 feet. It is found in dry oak forest and experiences a lessening of rain in the winter months.
Culture: I grow this well in intermediate conditions in moderately bright light with occassional mistings in the winter months. De-pending on the humidity in your grow area, you may need to water periodically as well. In its native habitat it experiences winter nights in the mid 40's and winter days in the mid 70's. Summers days average mid to high 80's and nights are low 60's. For best results, this species will benefit from warm summers with regular water and fertilizer. In the winter give it brighter light, drier conditions and probably little or no fertilizer. It does not need very high humidity to thrive and does best when the roots dry quickly. I prefer to grow it mounted, but there are many examples of beautiful specimen plants that are grown in pots or baskets.
Capsule parent: Encyclia mariae '1194'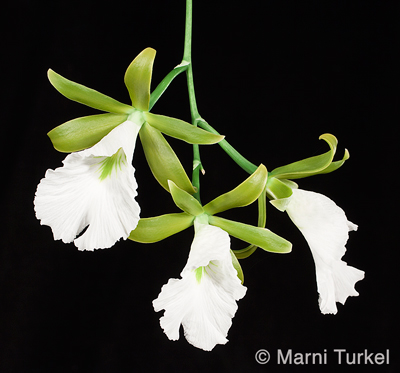 Pollen parent: Encyclia mariae '1192'