During checkout: select the "Orchid & Flask Orders" payment option.
You will be billed later.
Before you commit to buy, please read About Ordering
In the shopping cart: use your back button to return
Epidendrum falcatum outcross #3629 ('7488' x 'Dan Newman') (approximately 25 seedlings per flask).
The Species: This is a close relative of the better know Epidendrum parkinsonianum. Epi. falcatum is a smaller plant that can be distinguished by its pseudobulbs which are almost lacking in Epi. parkinsonianum. The flowers are up to 3.5" wide and wonderfully fragrant and can be carried with up to 8 flowers per inflorescence. It is endemic to Mexico where it is found at elevations from 3300 to 7000 ft. It is now properly called Coilostylis falcatum.
Culture: I grow mine mounted on cork or hardwood in a cool greenhouse. It gets almost daily water with dilute fertilizer throughout much of the year. In the habitat rain is light from November until April and May. Grow in moderate to moderately bright light. It can also be grown in intermediate conditions.
Capsule Parent: Epidendrum falcatum '7488'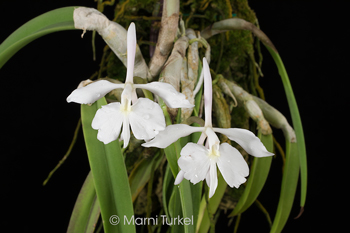 Pollen parent: Epidendrum falcatum 'Dan Newman'