Sold out
Epidendrum hugomedinae sibling cross #2400 ('Green' x 'White') (approximately 25 seedlings per flask).
The Species: This is found only in southeastern Ecuador at elevations near 5300 ft where it grows as an epiphyte. The inflorescense has up to 30+ flowers that open over a period of time with a large percentage of the flowers open at one time. The flowers have a sweet fragrance.
Culture: I have grown this in cool and intermediate conditions with limited success. I now grow it in warm conditions (62-65F minimum night) and find that it does much better. Grow it in moderate light with year round water and fertilizer. I grow it potted in a fine bark mix and try to repot it before the medium starts to break down.
Capsule parent: Epidendrum hugomedinae 'Green'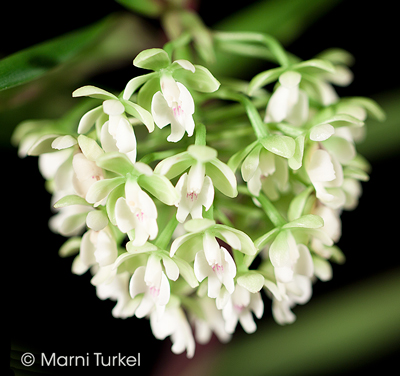 Pollen parent: Epidendrum hugomedinae 'White'