Sold out
Epidendrum marmoratum outcross #1895 ('#1' x 'Stony Point') (approximately 25 seedlings per flask).
The Species: This species is rarely seen in collections these days. It is a compact species and all of the mature plants I have seen are well under 12" tall. Since it is a very slow grower, divisions are rarely offered. It grows in southern Mexico at elevations between 5000 to 5600 feet. The flowers are very long lasting individually and the spike continues to produce flowers over a period of time.
Culture: It is an intermediate to cool grower. I fertilize them with 1/4 strength fertilizer most of the year and a bit lower strength in winter. I have tried giving it a strong dry rest for the winter, but find it didn't seem to help. It has grown well at both 50F night and 55F night. I grow it potted in a fine bark mix or mounted.
Capsule parent: Epidendrum marmoratum '#1'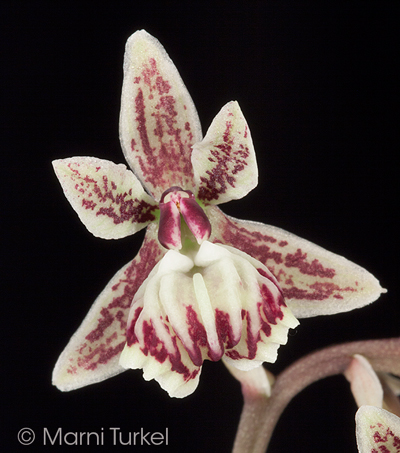 Pollen parent Epidendrum marmoratum''Stony Point'