Sold out
Epidendrum medusae outcross #1912 ('6166' x '2642') (approximately 25 seedlings per flask).
The Species: An Ecuadorian species that grows at elevations between 6000 and 8900 ft in cloud forest. This magnificent species has beautiful grey-green foliage that is makes it attractive all year round, while the large, intricate, maroon flowers are a real show-stopper. It blooms from the apex of the growth and frequently has a pair of flowers that are open at the same time, though sometimes only a single flower. The flowers are long lasting. It is not the easiest plant to maintain in good condition but the reward is significant if you can.
Culture: Best grown with cool nights in medium to moderately bright light and with good quality water. I have always grown this species as a mounted plant though it would probably adapt to pot culture also. For mature plants I usually start it in a horizontal position and then let it grow over the side of the mount. For many years I grew it only on tree fern because it likes to stay moist. Recently I have made divisions that have rooted well on cork in a vertical position. These can be quick to decline if conditions get stale or if the roots get damaged. Whenever I see a plant of this species declining, I check for root tip damage and always find bushsnails on the mount. As soon as they are erradicated, the plant makes a come back. I think these seedlings would do well started in a fine bark mix in compot.
Capsule Parent: Epidendrum medusae '6166'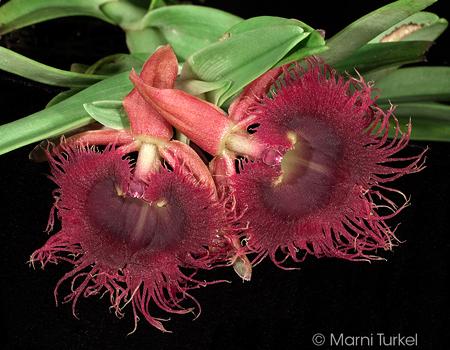 Pollen Parent: Epidendrum medusae '2642'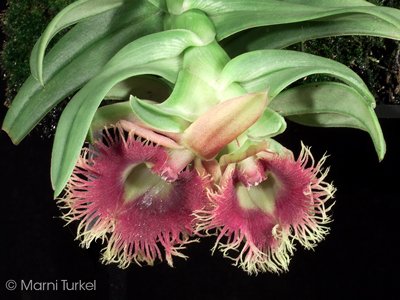 A different clone giving a good sense of the plant habit.