Sold out
Epidendrum neolehmannia outcross #4125 ('A' x '2052) (approximately 25 seedlings per flask).
The Species: These are found in southern Ecuador at an elevation around 5300 ft. The plant is small and the flowers are a bit bigger than the plant. It is free flowering. The lip color varies some but I can't tell if it is from clone to clone or a matter of how bright the light is. I bought several plants of this species. Once they bloomed I knew they were mislabeled and weren't anything I was already growing. I quite liked them and decided to do an outcross. I was given the proper identification by Eric Hagsater.
Culture: I have been growing these in cool conditions (50F minimumwinter nights) but they should do well in intermediate conditions. I have grown them in both moderate and rather bright light. They get water and dilute fertilizer year round and approach dryness between waterings. They have done well mounted and potted.
Capsule Parent: Epidendrum neolehmannia 'A'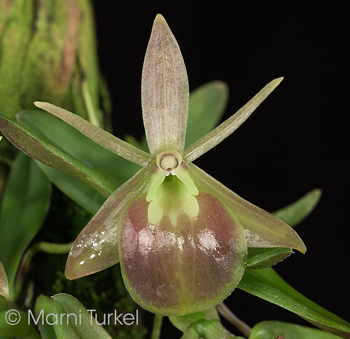 Pollen Parent: Epidendrum neolehmannia '2052'