During checkout: select the "Orchid & Flask Orders" payment option.
When this item has a price and becomes available for order
you can decide if you want to commit to buy it.
In the shopping cart: use your back button to return
Epidendrum parkinsonianum outcross #2445 ('0477' x '1112') (approximately 25 seedlings per flask).
The Species: This plant grows in southern Mexico and into Central America and is found at elevations of 3300 to 7600 feet. It is an epiphyte in oak forest and has a pendant growth habit. The inflorescence carries 1 to 3 of the long-lasting flowers. The flower is almost 6" tall and has a lovely fragrance (especially at night) that will perfume a room. It can bloom at anytime of the year.

Culture: The summers are warm, shady with a lot of water and regular fertilizer. Winters are brighter, a bit cooler and a bit drier, but not a hard dry rest. It should be grown mounted or in a basket to accommodate the pendant habit. Grow in intermediate, cool or cold climate with good air movement.
Capsule parent: Epidendrum parkinsonianum '0447'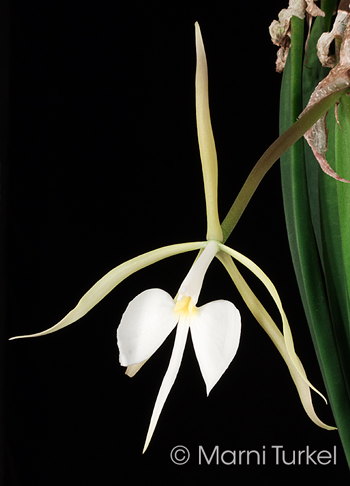 Pollen parent: Epidendrum parkinsonianum '1112'