Sold out
Epidendrum whittenii sibling cross #845 ('7/24/10' x '#3')
The Species: This plant grows in Ecuador and Peru and is found at elevations of 2300 to 4600 feet. both of the parents are from an outcross of Peruvian plants that I did several years ago. It is an epiphyte in oak forest and has a creeping, horizontal growth habit. The inflorescence successively carries up to 4 of the long-lasting flowers. The flowers are a bit under 1.25" wide and have a lovely sweet, fresh fragrance, especially at night and in the morning. It can bloom at anytime of the year.
Culture: I grow this species in intermediate to cool-intermediate temperatures, but it should do fine with warmer conditions. It can be grown potted or mounted. If you choose to grow it mounted, it does best on a horizontal mount. Give it year round moisture with regular fertilizer.
Capsule parent: Epidendrum whittenii '7/24/10' This is a view looking down on the plant. Of the 11 growths, it has 7 growths that are in bud or bloom. The longest growth is 5". Scroll down for flower image.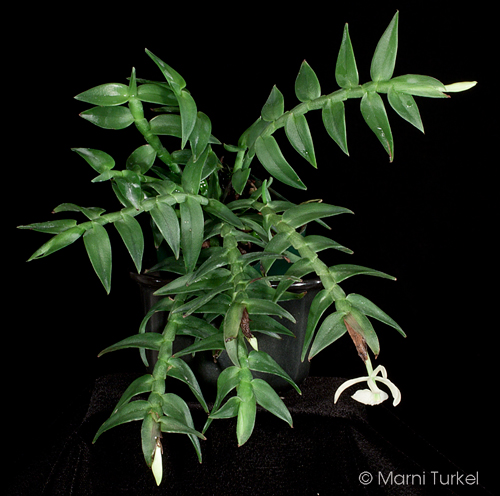 Pollen parent: Epidendrum whittenii '#3'