Sold out

See Cross #2424
Gastrochilus fuscopunctatus outcross #704 ('Lil' CBM/AOS x '0185') (approximately 25 seedlings per flask).
The Species: This is found in Taiwan in a limited area at elevations from 3600 to 8250 feet as an epiphyte on tree trunks. It has a pendant and outward arching growth habit and carries the flowers underneath just where the growth arches up. It is distinctive in or out of bloom because of the squiggly roots and spotted foliage. Gastrochilus fuscopunctatus 'Lil' CBM/AOS has an award CBM that stands for Certificate of Botanical Merit which I take to mean as worthy of cultivation. Since this is one of my all-time favorite species and this is the best of the clones I have seen, I agree.
Culture: I grow this in cool-intermediate to intermediate temperatures. I am currently fertilizing at every watering at the rate of 1/4 teaspoon per gallon and a bit lower strength in winter. Because of the pendant growth habit, they are most easily displayed when grown mounted. Though before I knew it was a pendant plant I grew it potted and staked up with a toothpick. I admit I was laughed at for growing it "wrong" but it did perfectly fine. Some say this species can be grown cold, but I haven't found that to be a good choice with the clones I have grown. 50F to 56F minimum nights suits it well. If you start getting a lot of moss build up, it may need just a bit of drying between waterings, though never dry for an extended period.
Capsule Parent: Gastrochilus fuscopunctatus 'Lil' CBM/AOS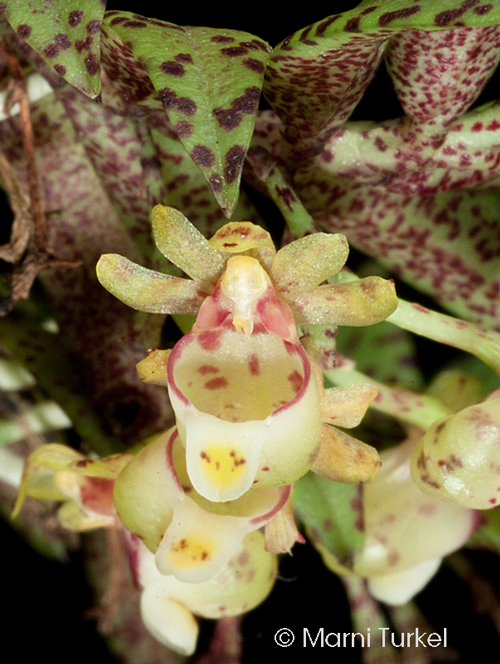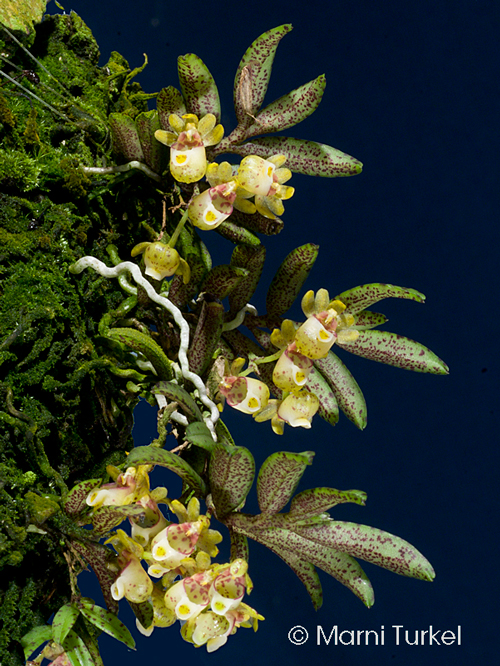 Pollen Parent: Gastrochilus fuscopunctatus '0185'