Sold Out
Gastrochilus pseudodistichus outcross #787 ('1698' x '1329') (approximately 25 seedlings per flask).
The Species: A pendant species very rarely seen in cultivation. It grows in the Himalayas from Assam, India to Yunnan province in China. It is found from 3300 to 8600 ft elevation. The flowers are about 1/4" wide and bloom successively with up to 9 flowers on an inflorescence.
Culture: Grow in intermediate to cool-intermediate conditions in moderate light. I grow it on cork or other bark. I put a bit of moss over the roots at the base of the plant and let the plant hang down and free.
Capsule Parent: Gastrochilus pseudodistichus'1698'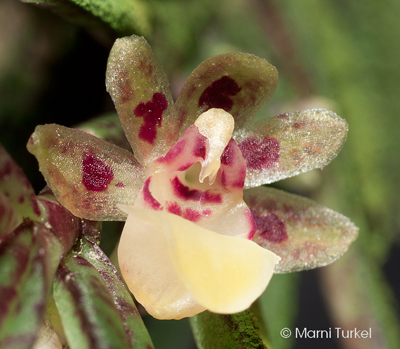 Pollen Parent: Gastrochilus pseudodistichus'1329'