Sold out
Gastrochilus calceolaris outcross #2767 ('Tarlow' x 2957') (approximately 25 seedlings per flask).
Contents: Approximately 25 seedlings that are ready to come out of flask.
The Species: This plant is widespread in Southeast Asia and is found at elevations from 3000 to 7600 feet. The slightly fragrant flowers are about 3/4" wide. It blooms in the fall and winter with long lasting flowers. Over time this species gets side growths so you can have multiple growths in flower at the same time.
Culture: This species will grow in intermediate to cool temperatures. In the past I have watered this species year round, but find that if given a drier winter and it seems to produce more spikes than before. It grows well mounted where the roots can hang out and dry between waterings. If you want to grow it potted, be sure to repot before the media breaks down.
Pollen parent: Gastrochilus calceolaris '2957'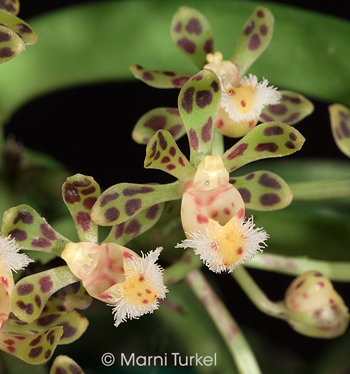 Capsule parent: Gastrochilus calceolaris. I didn't photograph the particular clone I used. Here some images that Ron Parsons has taken of different plants of Gastrochilus calceolaris in my collection.