During checkout: select the "Orchid & Flask Orders" payment option.
When this item has a price and becomes available for order
you can decide if you want to commit to buy it.
In the shopping cart: use your back button to return
Gomesa (Baptistonia) silvana outcross #4016 ('1493' x 1498') (approximately 25 seedlings per flask).
The Species: This was moved from Baptistonia to Gomesa with a major revision some years ago.It is found in the state of Bahia, Brazil where it grows in mountainous rainforest at 650 to 1650 ft elevation. It is a moderately sized plant up to 9" tall. It will carry 6 to 20 flowers on an inflorescence that starts out upright and arches so that it is at least partly pendant.
Culture: It has grown well both potted and mounted in intermediate temperatures. In nature, there is a lessening of water in the winter but not a distinct dry season. Do not allow the pseudobulbs to shrivel in the winter. I have always grown it in moderate light.
Pollen parent: Gomesa silvana '1498'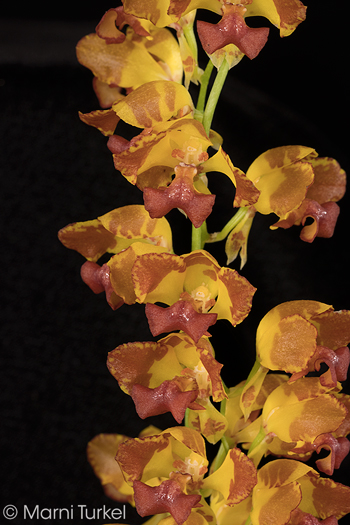 Capsule parent: Gomesa silvana '1493'