Sold out
Gomesa widgrenii outcross #3784 ('9037' x 'D') (approximately 25 seedlings per flask).
The Species: For many years this was known as Baptistonia widgrenii. A Brazilian endemic from the stares of Rio de Janeiro, Minas Gerais and Rio Grande do Sul. It is found in cool, moist mountains and also drier plains and savannas. It is a compact plant that can be up to 8" tall. The inflorescence is nodding to arching and can carry up to 15 of the 1" flowers.
Culture: I have grown this both potted and mounted. After speaking with a Brazilian vendor at a show I have been growing this mounted on wood and set inside a pot so that the base of the plant is about even with the top of the pot. He suggested putting moss in the pot, but I decided to use coconut fiber to fill in the space. It creates an air place for the roots that holds extra moisture. I have tried giving more or less of a dry rest in the winter. sometimes I overdid the dry rest and the pseudobulbs shriveled more than they should have. So decrease the winter watering, but don't let it go dry for extended periods of time. I grow these in intermediate to cool-intermediate conditions with moderate to moderately bright light.
Capsule Parent: Gomesa widgrenii '9037'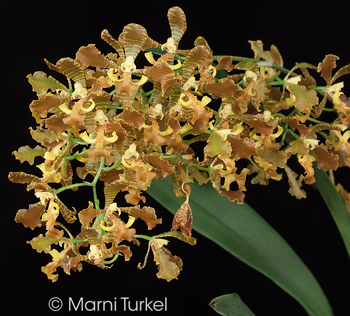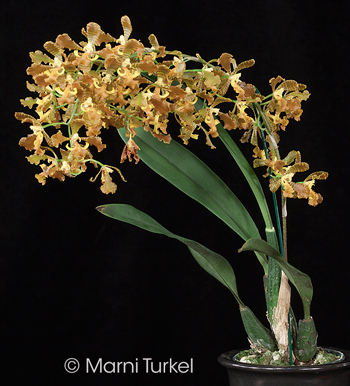 Pollen Parent: Gomesa widgrenii '10/17'