During checkout: select the "Orchid & Flask Orders" payment option.
When this item has a price and becomes available for order
you can decide if you want to commit to buy it.
In the shopping cart: use your back button to return
Habenaria carnea alba sib cross #4751 ('#1' x '8894') (approximately15 seedlings per flask).
The Species: Always a desirable species, the alba form is elegance and simplicity that is rarely encountered. The foliage of the alba form is a light green speckled with white spots. This is a cross between selected clones both with very fine shape. Habenaria carnea is from Thailand where it grows on limestone hills. It experiences a dry season in the winter.
Culture: I have grown this species in both intermediate and warm conditions successfully. You need to provide for the seasonal dry conditions to succeed with this genera. During the growing season I water and fertilize as for many other plants. I don't let it dry completely at this time. Best growth for me has been achieved in a terrestrial mix (more or less: 3 parts fine bark, 5 parts pumice or perlite, 3.5 parts coir powder, 1.5 parts 1/2" lava rock, and 5 parts rich commercial potting soil). Others use moss or different mixes with success. I have found these do best if I deflask while in active growth. I keep them in a covered plastic tray for the first couple of weeks so the humidity stays high. An inexpensive covered aluminum cake or roasting pan from the grocery store will work well. More on dry rest for Habenaria.
Capsule parent: Habenaria carnea alba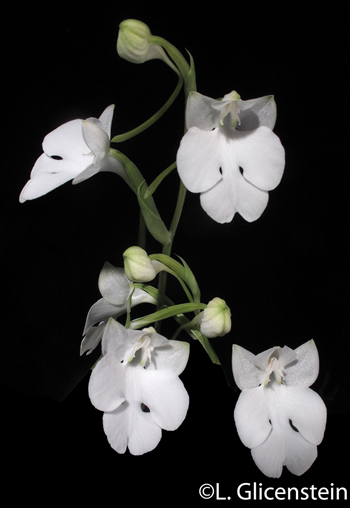 Pollen parent:Habenaria carnea alba