During checkout: select the "Orchid & Flask Orders" payment option.
You will be billed later.
Before you commit to buy, please read About Ordering
In the shopping cart: use your back button to return
Habenaria roebbelenii sibling #4364 ('3424' x '3417') (approximately 15 seedlings per flask). I also made the reciprocal cross #4365 (same parents, switched places) and a later cross #4885 with similar parents that I will be shipping interchangeably under this number.
The Species: This species is listed as a synonym of Habenaria rhodocheila by some authorities, but after pollinating both, I will keep this as a separate species. The foliage is attractive and the presentation of the spike makes it a very choice species.
Culture: I have grown this species in both intermediate and warm conditions successfully. You need to provide for the seasonal dry conditions to succeed with this genera. I have found these do best if I deflask while in active growth. I keep them in a covered plastic tray for the first couple of weeks so the humidity stays high. An inexpensive covered aluminum cake or roasting pan from the grocery store will work well. More on dry rest for Habenaria.
During the growing season I water and fertilize as for many other plants. I don't let it dry completely at this time. Best growth for me has been achieved in a terrestrial mix (more or less: 3 parts fine bark, 5 parts pumice or perlite, 3.5 parts coir powder, 1.5 parts 1/2" lava rock, and 5 parts rich commercial potting soil). Others use moss or different mixes.
Capsule Parent: Habenaria roebeblenii 3424'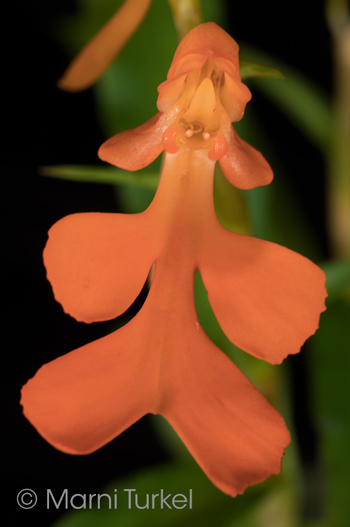 Pollen parent: Habenaria roebbelenii '3417'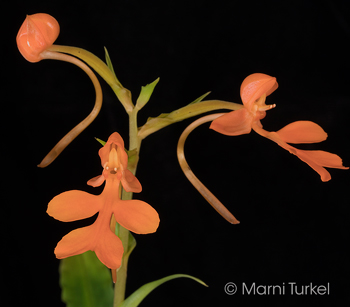 Habenaria roebbelenii. This is one of the parents of the plants used for this cross. It shows the plant habit well.