During checkout: select the "Orchid & Flask Orders" payment option.
You will be billed later.
Before you commit to buy, please read About Ordering
In the shopping cart: use your back button to return
Holcoglossum flavescens #4418 outcross ('3579' x '3591') (approximately 25 seedlings per flask).
The Species: This grows in several provinces in China at elevations from 3950 to 6550 ft in broad-leaved evergreen forests. This is the smallest Holcoglossum and a very tidy plant with terete leaves up to 3" long. The flowers are up to 1" wide and produced with 2 to 3 per inflorescence
Culture: The summers are cloudy with significant rain in the habitat and reduced light. The most signifigant rains are from May to August. The rain decreases from fallthrough ealy sping though the plants do still get some rain and moisture from condensation. They are adaptable to a range of temperatues from cold, cool and intermediate.
Capsule parent: Holcoglossum flavescens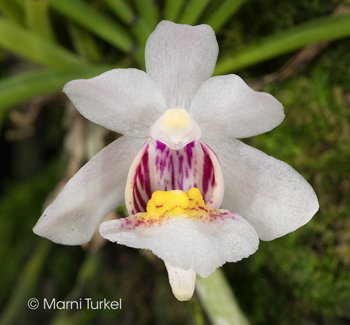 Pollen parent: Holcoglossum flavescens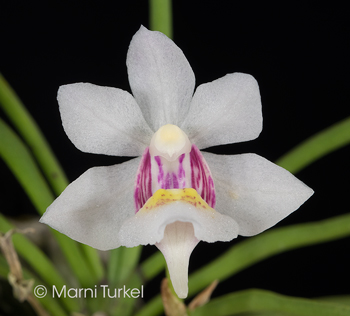 An unrelated clone that shows the habit of this species.