During checkout: select the "Orchid & Flask Orders" payment option.
You will be billed later.
Before you commit to buy, please read About Ordering
In the shopping cart: use your back button to return
Holcoglossum subulifolium outcross #5440 ('0597' x '3/22/20')(approximately 25 seedlings per flask).
The Species: This grows in Myanmar, Thailand, Vietnam and China at elevations from 3950 to 8200 ft. It is a pendant, semi-terete leafed plant up to 2ft long on the plants I grow. The fragrant flowers are about 1.5" tall and can have up to 16 per inflorescence.
Culture: I grow this mounted on cork in cool/cold condition for the fall/winter and warm spring/summer. It is in moderately bright light in the winter and shady in the summer .I give it daily water and fertilizer most of the year so it is dry before the next watering. In the fall/winter it doesn't get fertilizer but it is misted once or twice a week.
Capsule parent: Holcoglossum subulifolium 0597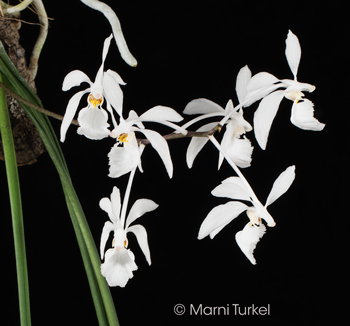 Another plant from the same source: