Sold out
Holcoglossum wangii outcross #3095 ('5883' x '5887') (approximately 25 seedlings per flask).
Up for Bid: A flask of Holcoglossum wangii. The auction flask is shown in the 2 images with the tape measure. It is growing in a 16 oz plastic flask. The flowering images are the parents. [3095]
Contents: Approximately 25 seedlings that are ready to come out of flask.
The Species: This is an outcross of a wonderful species that stays compact. The plant has a pendant habit with spikes of up to 5 flowers that present themselves nicely. The flowers are about 2" wide and fragrant. It grows in southwestern Guangxi and southeastern Yunnan provinces of China and north Vietnam in humid forest. It comes from a range of elevations from 800 to 4000 feet.
Culture: This is an adaptable species that can take some extremes of temperature. It does well with warm, intermediate and cool conditions. It prefers bright light with warm days and cooler nights. Let just dry between some of the waterings. It can be grown potted or mounted. If it is potted, it will start to hang over the side of the pot, so a hanging pot or basket works well.
Capsule parent: Holcoglossum wangii '5883'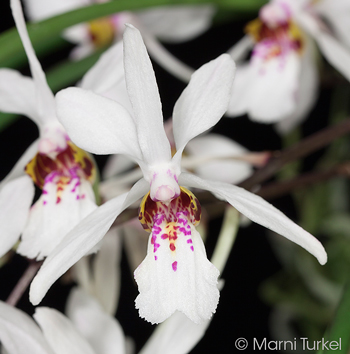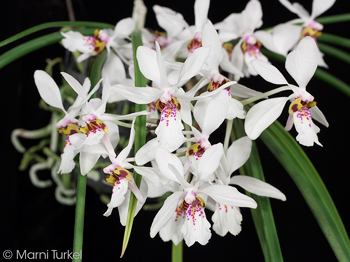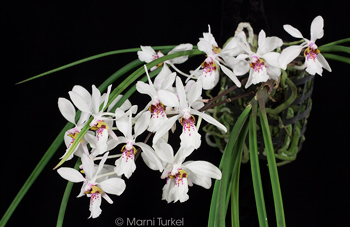 Pollen parent: Holcoglossum wangii '5886'