During checkout: select the "Orchid & Flask Orders" payment option.
You will be billed later.
Before you commit to buy, please read About Ordering
In the shopping cart: use your back button to return
Holcoglossum kimballianum outcross #3094 ('5863' x '5886') (approximately 25 seedlings per flask).
Up for Bid: This is an outcross of 2 good clones of Holcoglossum kimballiana. The flask you are bidding on is shown in the images with the tape measure. It is growing in a 16 oz plastic container. The blooming images are of the parents including one that shows the plant habit. [3094]
Contents: Approximately 25 seedlings that are ready to come out of flask.
The Species: This is a beautiful species from Myanamar, Thailand, Laos, and southern China. It is found at elevations of 4000 to 6000 ft. It frequently is found growing on rocks but also grows as an epiphyte. The flowers are long lasting, about 2" wide and very fragrant. This is an outcross of two good clones of Holcoglossum kimballiana.
Culture: I have grown this with cool (50F) to cold (40F or less) minimum nights. Maximum days were from 75 to 95F in the summer. I now grow it in a cool greenhouse year round. It will do well with warm summers and cooler winters. Give it ample water and fertilizer during the summer growing season and a bit less water in the winter. I have found that a prolong dry rest is not necessary. It has done well for me in wooden baskets with little or no medium and also in net pots with large bark. It is best if it can be hung up so the light is bright and the growths don't lay on the bench.
Capsule parent: Holcoglossum kimballiana '5863'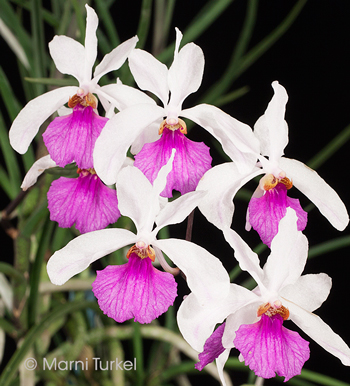 Pollen parent: Holcoglossum kimballiana '5866'