During checkout: select the "Orchid & Flask Orders" payment option.
You will be billed later.
Before you commit to buy, please read About Ordering
In the shopping cart: use your back button to return
Houlletia odoratissima outcross #2350 ('6133' x '2125') (approximately 25 seedlings per flask). I have another cross of this species that uses one of the same and another one that I didn't photograph. I expect they will be of the same quaility and I am shipping these interchangeably.
The Species: A fragrant species that is found from Panama through north, west and south South America. It grows at elevations from 3300 to 5000 ft growing where it grows as a terrestrial. The blooming season is from summer through fall and a plant will have multiple spikes during the season with up to 3 spikes from a single pseudobulb over the season. The waxy flowers are about 3" tall and carried on an upright spike. The capsule parent is from northern Peru and is the most floriferous of those I grow. The color is a dark, rich red-brown. The pollen parent is from Colombia and is a much redder color. The flowers last quite well.
Culture: I have always grown this in intermediate conditions with 56°F minimum nights. From the elevation, it should do well warmer also. I give it year round watering with dilute fertilizer and grow it in moderate light. I does equally well in a terrestrial mix as in a fine bark mix.
Capsule parent: Houlletia odoratissima '2125'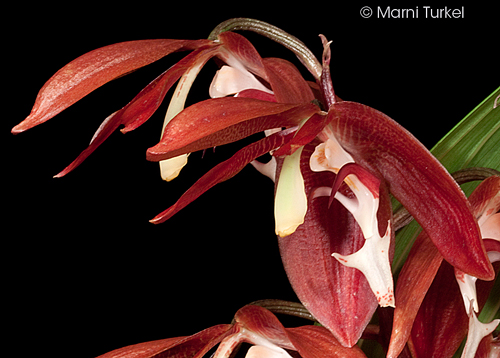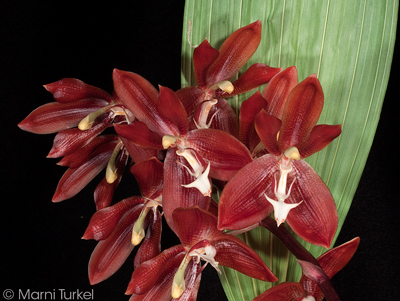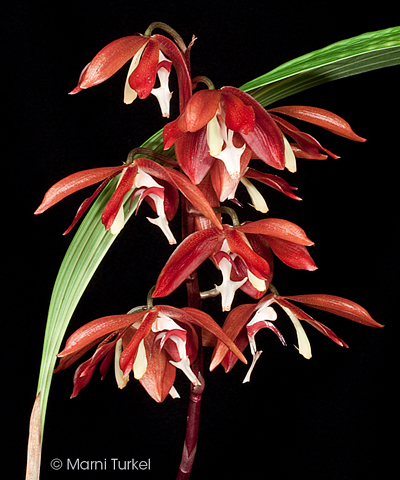 Pollen parent: Houlletia odoratissiuma '6133'