During checkout: select the "Orchid & Flask Orders" payment option.
You will be billed later.
Before you commit to buy, please read About Ordering
In the shopping cart: use your back button to return
Dendrobium (Inobulbon) munificum x self #5209 ('Kelly') (approximately 25 seedlings per flask).
The Species: This is a very distinctive plant with long fibers growing from the nodes of the pseudobulbs and dark green leaves from 8 to 14" long. Found in New Caledonia growing as an epiphyte at elevations from 650 to 2300 ft. They are frequently found near streams growing on moss covered trunks and branches sometimes up to 50 ft above the ground. The arching to pendent inflorescence is up to 12" long and frequently branches. The flowers are 1 to 1.5" wide with up to 150 flowers per inflorescence.
Culture: This is an intermediate to warm grower with winter averages from 53 to 69F and summer averages from 65 to 82F in its native habitat. I have grown is in a variety of temperature ranges and it has done best for me with nights in the mid-60's and days in the low 80's. I water it almost every day with dilute fertilizer. It is described as growing in somewhat shady conditions. It is doing very well for me in something less that Cattleya light, but still moderately bright. It can be grown mounted but needs excellent humidity and extra waterings in warmer months. I grow mine in a net basket with a fine bark mix.
Parent:Dendrobium (Inobulbon) munificum ('Kelly')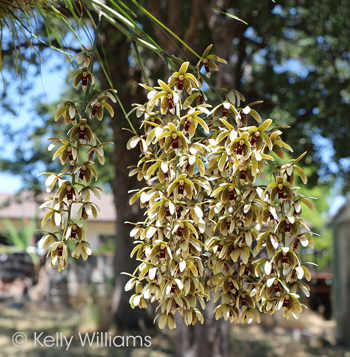 Dendrobium (Inobulbon) munificum: a different clone