Sold out
Laelia anceps 'Helen' HCC/AOS selfing treated #93964 (approximately 25 seedlings per flask). These seedlings have been treated to alter the chromosome count. This does not guarantee that they will be 4N. For more information go to Ploidy.

This is a selfing of the well-known clone Laelia anceps 'Helen' HCC/AOS that has been treated. Some years ago I saw a plant in bloom of a selfing of Laelia anceps 'Helen' that had been converted to a 4N and didn't forget how lovely it was. I have remade this cross in hopes of achieving more exceptional flowers.
The Species: Laelia anceps is from Mexico, Guatemala and Honduras where it is found at elevations from 1650 to 5000 feet. It is hardy down to 32F if it is dry at the time. The species will have from 2 to 5 fragrant flowers per inflorescence.
Culture: I have grown this plant with 45F winter minimum and 90F summer maximum. I currently grow it with 50F minimum winter and 80F maximum days. Water and fertilize regularly from spring through fall and reduce water substantially for winter. It can grow in intermediate and cool-intermediate conditions also. The flowers (once open) last longer if not in a humid environment. Before they open in is a good idea to wash the buds off with water as the sugar that appears can keep them from opening normally.
This is the Laelia anceps 'Helen' HCC/AOS by self that was converted to 4N. This flower did not have the the yellow cast when seen in natural light: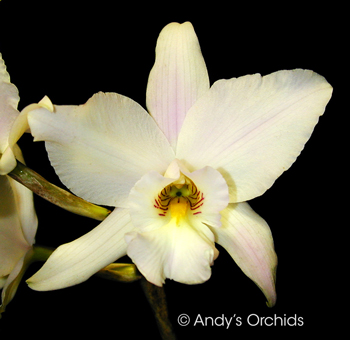 Laelia anceps 'Helen' HCC/AOS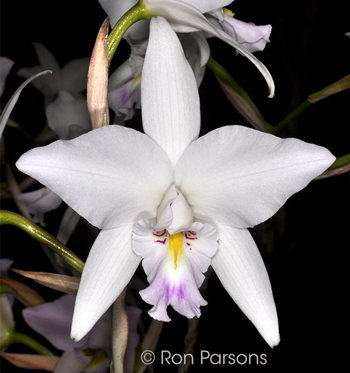 Laelia anceps 'Helen' HCC/AOS