Sold out
Lycaste brevispatha sibling cross #752 ('1722' x '1727') (approximately 25 seedlings per flask).
The Species: The Central American species occurs in Nicaragua, Costa Rica and Panama at elevations from 3950 to 5900 ft where it grows as an epiphyte. Rainfall from April to November is heavy and then tapers off for the winter months, though there is moisture from dew and mist and good humidity during the dry season. The leaves can reach about 20" tall, so this is one of the smaller growing Lycaste species that stays a manageable size. The flowers bloom from last years mature bulbs and are about 2" wide. The color of the flowers can vary depending on the temperature when it is in bud.
Culture: I grow this species potted in a cool greenhouse with winter temperatures in the low 50's F. As the leaves begin to yellow in the fall, cut back on water until after flowering in early spring. Resume regular watering when the new growths are 4 or so inches long. Fertilize regularly during the growing season. Care must be taking not to lodge water in the new growths. If the growing area is very humid, these plants need only very occasional watering in winter. If conditions are drier water after the media has become completely dry. Some shriveling of the pseudobulbs is normal, but water enough to avoid desiccation.
Capsule Parent: Lycaste brevispatha '1722'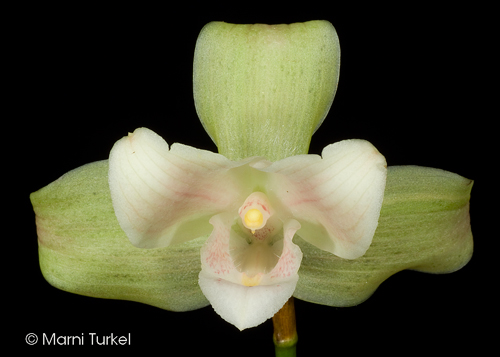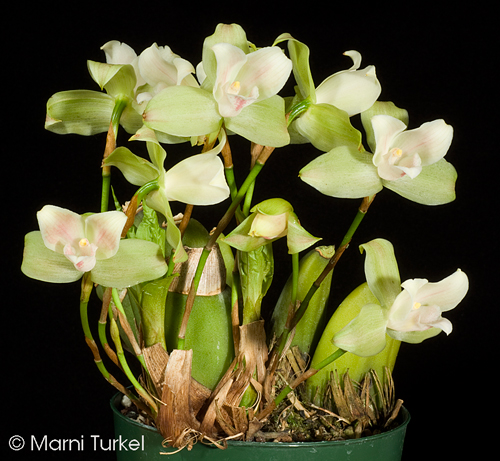 Pollen Parent: Lycaste brevispatha '1727'