During checkout: select the "Orchid & Flask Orders" payment option.
You will be billed later.
Before you commit to buy, please read About Ordering
In the shopping cart: use your back button to return
Laelia furfuracea outcross #4559 dark x alba ('Stony Point' x 'Yunor') (approximately 25 seedlings per flask).
The Species: It grows in southern Mexico at elevations from 7000 to 9900 feet on oak trees. It comes from an area of warm, summer rain and a cool, winter dry season. Expect a range of color from this cross.
Culture: I grow this species with Laelia anceps, assorted barkerias, and Himalayan dendrobiums. The winter nights should be cool to cold with bright light and reduced watering with low to no fertilizer. Summers are warm, wet and shady.
Capsule parent: Laelia furfuracea 'Stony Point'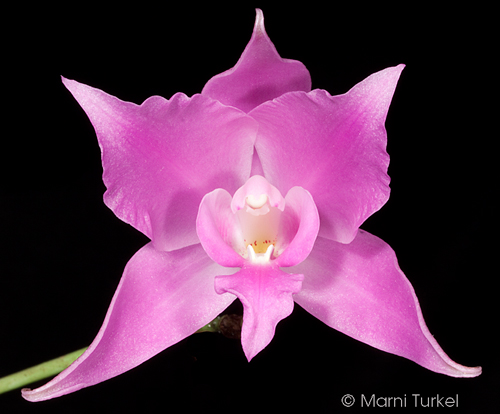 Pollen parent: Laelia furfuracea alba