During checkout: select the "Orchid & Flask Orders" payment option.
When this item has a price and becomes available for order
you can decide if you want to commit to buy it.
In the shopping cart: use your back button to return
Leptotes pauloensis outcross #4792 ('#1' x 'JL') (approximately 25 seedlings per flask).
The Species: This charming miniature grows in Brazil at elevations from 2300 to 3300 feet as an epiphyte in mountain forest. The flowers are about 2/3" wide and are usually carried 1 per spike. It can bloom multiple times during a season.
Culture: It is a warm to intermediate grower that I water year round, but I water it less frequently than other mounted plants. It does best if allowed to be dry for a day or two before watering again. I am currently fertilizing at every watering at the rate of 1/4 teaspoon per gallon and a bit lower strength in winter. It can be grown potted or mounted, but if potted, be sure it can dry between waterings and use a small pot.
Pollen parent: Leptotes pauloensis 'JL'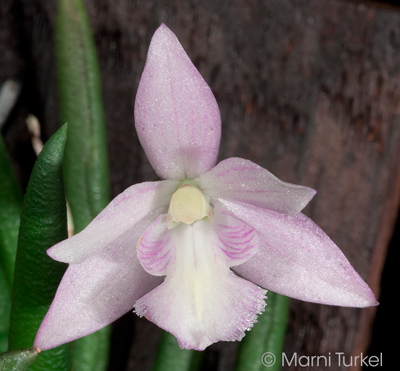 I was a bit cryptic on my notes on the capsule parent and don't have an image of that so I show here another one from my collection tht shows the habit well.