During checkout: select the "Orchid & Flask Orders" payment option.
You will be billed later.
Before you commit to buy, please read About Ordering
In the shopping cart: use your back button to return
Leptotes pohlitinocoi outcross #4001 ('5574' x '1398') (approximately 25 seedlings per flask). I also have flasks of the reciprocal cross and these may be substituted.
The Species: This Brazilian native has terete leaves that are 4 to 6" long. The leaves are arching to pendant. The flowers are a bit less that 2" and are carried on a short inflorescence with 1 to 4 of the successive flowers.
Culture: I have grown this well in intermediate conditions and always as a mounted plant. Give it moderate to moderately bright light. The plants seem to do well with a wet/dry cycle so I wait to water until the plant has dried a bit. It can also be grown in warmer conditions.
Capsule parent: Leptotes pohlitinocoi '5574'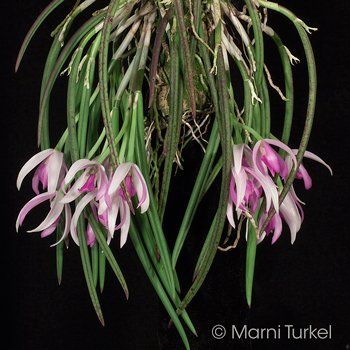 Pollen parent: Leptotes pohlitinocoi '1398'