Sold out
Lyaste powellii treated outcross #93675 ('Stony Point' x '8663') (approximately 25 seedlings per flask). These seedlings have been treated to alter the chromosome count. This does not guarantee that they will be 4N. For more information go to Ploidy.
The Species: This is a charming, small stature plant with beautiful foliage. The species blooms heavily and puts on a real show. This is found in Panama at lower elevations and possibly in northern Colombia. The leaves can be up to 16" tall, but are usually less. While each inflorescence carries only one flower there are many coming from each mature pseudobulb. The fragrant flowers are up to 2.5" wide, presented nicely without staking and are long lasting. The blooming specimen plant shown below is growing in a 5" diameter pot.
Culture: Grow this in intermediate to warm conditions. In the habitat, there is a decrease in rainfall and brighter light in the winter and early spring. I find this still blooms well even without a significant decrease in water or increase in light. Never let the pseudobulbs shrivel during winter. Use dilute fertilizer during the growing season. I have always grown this species potted in a fine bark mix. It can be grown mounted if humidity is high.
Capsule parent: Lyaste powelli 'Stony Point'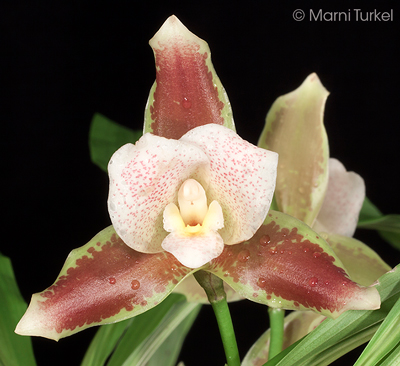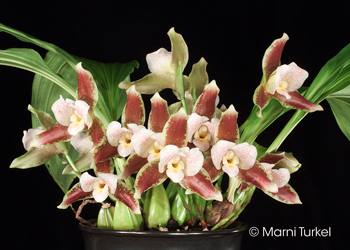 Pollen parent: Lyaste powelli '8663'