During checkout: select the "Orchid & Flask Orders" payment option.
When this item has a price and becomes available for order
you can decide if you want to commit to buy it.
In the shopping cart: use your back button to return
Lycaste virginalis/skinneri outcross alba #3124 ('6665' x '6145') (approximately 25 seedlings per flask).
The Species: Lycaste virginalis/skinneri grows in Mexico, Guatemala, Honduras and El Salvador at elevations from 4000 to 6000 ft. The flowers are large (5" or more), long-lasting and fragrant with one flower per spike. It can carrymore than one spike per pseuobulb.
Culture: It is a cool-intermediate to intermediate grower. I fertilize them with 1/4 strength fertilizer most of the year, but it could benefit from slightly higher concentrations during the growing season. Moderately bright light. I grow this species in a fine bark mix or a terrestrial mix. It does not get a dry winter rest.
Capsule parent: Lycaste virginalis/skinneri '6665'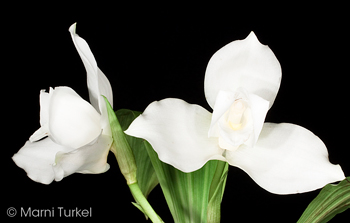 Pollen parent: Lycaste virginalis/skinneri '6145'