Sold out
Lycaste virginalis (syn skinneri) outcross #91005 ('6661' x '6670') treat to double ploidy, possible 4N (approximately 25 seedlings per flask). These seedlings have been treated to alter the chromosome count. This does not guarantee that they will be 4N. For more information go to Ploidy.
This is a cross of two unrelated Lycaste skinneri clones that I am very happy with. The capsule parent is from Dick Stone's breeding (a cross of 2 collected species) and the pollen parent from my own breeding (again with 2 collected plants). The plants from the pollen parent's cross have had flowers from 4.5 to 7" wide and up to 5 flower on a pseudobulb on first bloom seedlings. Both parents test clean for virus, but just to be careful, it was sown from sterilized dry seed so there would be no chance of virus passed from parents. The seedlings in flask are vigorous growers.
The Species: Lycaste virginalis/ skinneri grows in Mexico, Guatemala, Honduras and El Salvador at elevations from 4000 to 6000 ft. The flowers are long lasting and fragrant, one flower per spike and frequently multiple spikes from a growth.
Culture: It is a cool-intermediate to intermediate grower. I fertilize them with 1/4 strength fertilizer most of the year, but it could benefit from slightly higher concentrations during the growing season. Moderately bright light. I grow this species in a fine bark mix or a terrestrial mix in plastic pots or net pots set inside a plastic pot. It does not get a dry winter rest in my conditions.
Capsule Parent: Lycaste skinneri '6661'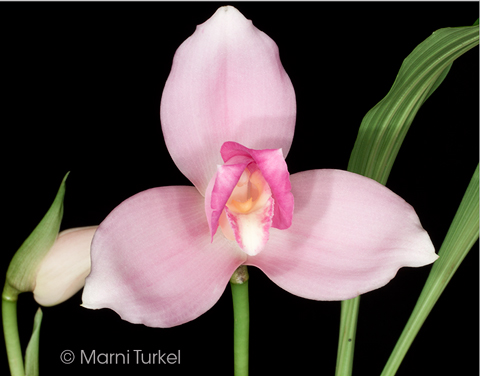 Pollen Parent: Lycaste skinneri '6670'