During checkout: select the "Orchid & Flask Orders" payment option.
When this item has a price and becomes available for order
you can decide if you want to commit to buy it.
In the shopping cart: use your back button to return
Masdevallia floribunda #5492 sibling cross ('570-1174'x '570-1161') (approximately 25 seedlings per flask).
The Species: A widespread epiphytic species in Mexico and Central America at elevations from 1300 to 3950 feet through most of its range. The original parents of this breeding were unrelated plants from Guatemala. They were both compact plants with full flowers and prominent, dark maroon-red spotting. These plants will be 3 to 4" tall with the flowers just clearing the top of the foliage. There are 1 or 2 flowers per inflorescence.
Culture: This species can be grown potted or mounted. I have grown them in cool and intermediate temperatures and they can also be grown warm. In nature there is a bit less rain in the winter But have never given them a distinct dry rest. I water my plants year round with dilute fertilizer and bloom them regularly. Grow them in moderate light.
Capsule Parent: Masdevallia floribunda '570-1174'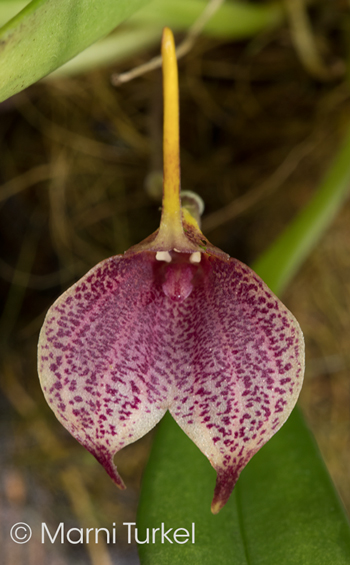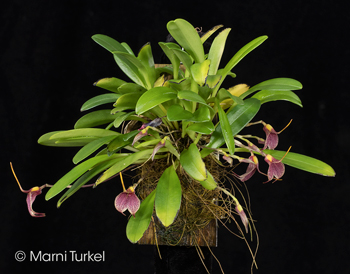 Pollen Parent: Masdevallia floribunda '570-1161'